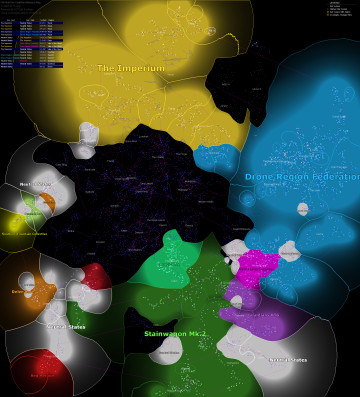 This map shows the status of Coalition influence across the whole cluster of New Eden before the attack launched by the Moneybadger Coalition against Imperium territory, which is diplayed in yellow at the northern end of the map.
The conflict centered around the constellation of 1P-VL2 in Tribute, with the two largest engagements occurring in the systems of M-OEE8 and J-GAMP.
The total number of pilots involved in this contact topped out at an astonishing 5,806, making it the second largest battle in the history of EVE Online, second only to the epic clash in B-R5RB.
Map courtesy of Verite Rendition Influence Maps & Chuggi