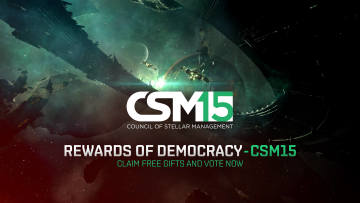 Stellar Capsuleers,
Voting is now open for the 15th Council of Stellar Management (CSM15), so exercise your democratic right and cast your vote for the candidates you feel best represent your interests in New Eden! Make sure to check out the details on all of the candidates and cast your vote before 12:00 UTC on 8 June.
To celebrate the voting period, alongside voting for your chosen candidates in CSM15, you can also claim free gifts as part of the Rewards of Democracy daily login event running from 1 June to 8 June! Rewards include Skill Points, Boosters, Needlejack Filaments, and CSM-themed special edition shuttles.
Both Alpha and Omega Clone State Capsuleers can claim free gifts daily, with Omegas getting bigger and better rewards as well as being able to claim the Alpha rewards, too!